Initiatives and Research
Find out more about our initiatives by visiting the Telfer Knowledge Hub:
Smart Succession Planning Key to Future Prosperity for Family Businesses
Alchemy and the Family Enterprise: Finding Family Purpose
The Next Generation: Overlooked for too Long - Conversations from the "Let's Talk Family Enterprise" Podcast
When Does It Make Sense to Engage Family Business Consultants? – Excerpt from Enabling Next Generation Legacies
New Publication: Enabling Next Generation Legacies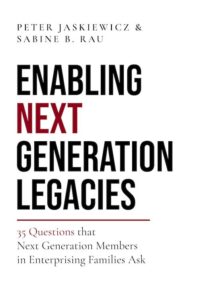 35 Questions that Next Generation Members in Enterprising Families Ask by Peter Jaskiewicz. To learn more visit https://www.35questions.com/.