Initiatives and Research
Find out more about our initiatives by visiting the Telfer Knowledge Hub:
Roger Greenberg: Building Ottawa's Future
Positive Collaboration Between Non-family Execs and NextGen – Excerpt from Enabling Next Generation Legacies
Overcoming Family Business Challenges Through Organization Studies
FELI at the FEC Family Business Symposium 2023 in Ottawa
Publication: Enabling Next Generation Legacies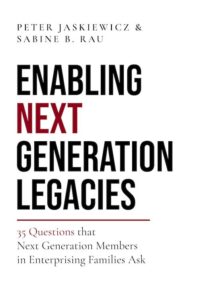 In the field of family business, focus is typically placed on the parent generation. Support for the Next Generation has been limited, even though they're our future.
Recognizing this gap, Telfer Professors Peter Jaskiewicz and Sabine Rau brought together the global community of family enterprise to address the most pressing questions of the next generation. 88 contributors rose to the challenge, including notable families, academics and experts from around the world.
The result: Enabling Next Generation Legacies, a book already acknowledged as one of the most influential on the subject. Powered by the Family Enterprise Legacy Insitute (FELI) and in partnership with Family Business Network (FBN), ENxGL is helping prepare and guide Next Gens in their future roles as family enterprise leaders.
Physical and digital copies of the book are now available: https://www.35questions.com/